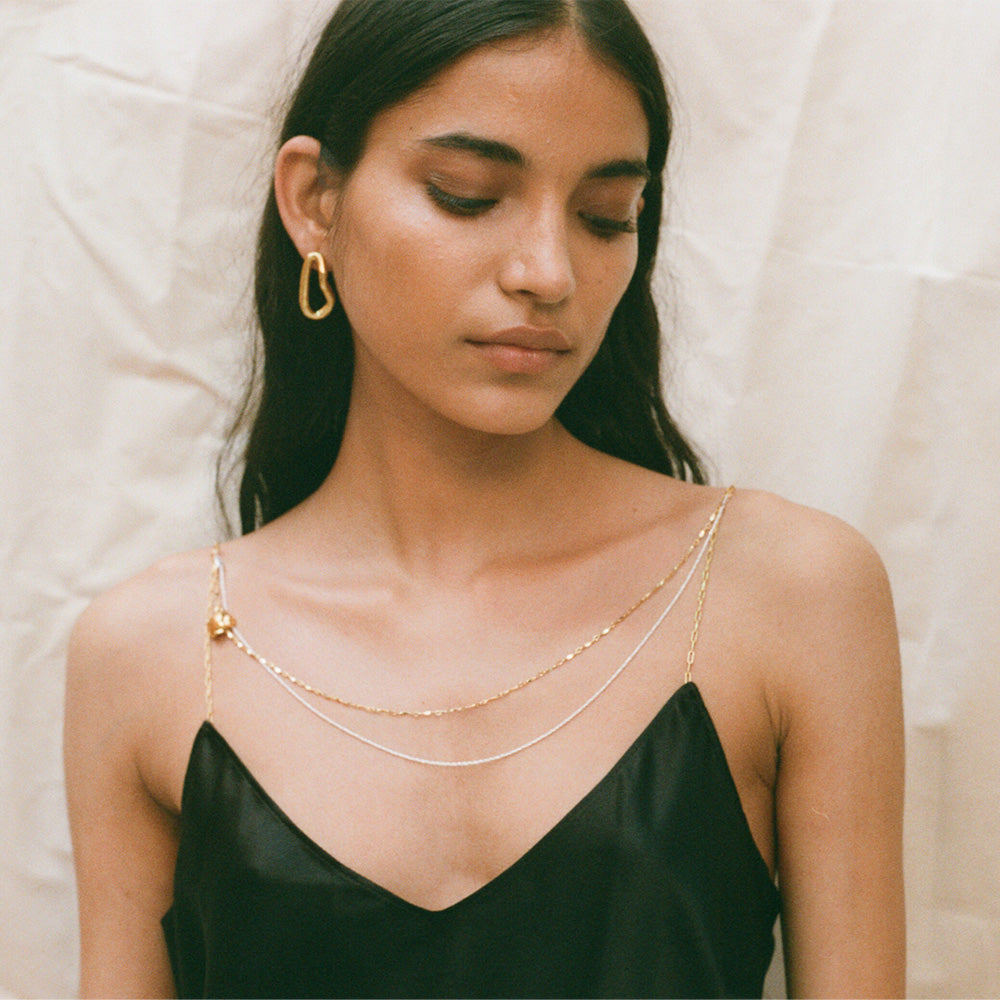 Alighieri and BIAS launch limited edition capsule collection, January 2020
Luxury brands Alighieri Jewellery and BIAS have collaborated to produce a three-piece capsule collection to tide in the New Year. The collection consists of three timeless BIAS silk slip dresses, hanging from golden chain straps, hand-crafted in Alighieri's Hatton Garden Studio. Each piece is rooted in a story, inspired by Dante's Divine Comedy.
The anthology tells a story of romance and tragedy. The simple elegance of the BIAS dress, cut to flatter the female form, is contrasted with Alighieri's signature molten and imperfect jewellery.
Produced in limited runs the brands wanted to create wearable statement pieces, from the Ball and Chain for date night, to the Midnight Tempest for ethereal summer nights, and the Tapestry at Dawn, that has a detachable necklace to take it up or down a notch.
The Midnight Tempest Slip Dress (£350)
The collaboration came from the longstanding friendship between the brands founders Rosh Mahtani & Olivia Pope. Taking their core products, they wanted to create a unique clothing and jewellery hybrid that considered how dressing and styling could be combined in one desirable product.
"I live in slip dresses with layers of gold jewellery, come winter with a polo-neck and black tights, or summer with white sneakers and an oversized blazer. Olive and I dreamt about creating the ultimate Modern Heirloom: the slip with tough gold chain straps, dripping with molten stories. A dress you could wear to your best friend's wedding with sling-back mules, or to the office over a white t-shirt." Rosh Mahtani, Alighieri
The Ball and Chain Slip Dress (£275)
"Alighieri has always been about timeless classics with a twist, and I'm so happy to finally have our own slip dress to live in, for seasons to come. Creating it with one of my best friends has been a magical journey." Rosh Mahtani, Alighieri 
The Capsule is due to launch Friday 31st January, ahead of Valentines Day, and will be available to purchase on Alighieri.co.uk and Biaseditions.com.